SESH team published WHO/TDR Practical Guide at AIDS 2018 in Amsterdam
release date:
2019-06-10 18:12
SESH team published WHO/TDR Practical Guide at AIDS 2018 in Amsterdam

Amy Lee is a research coordinator with UNC Project-China. She attended the 2018 International AIDS Conference in Amsterdam, Netherlands, in July and shares her reflections of the conference.
I remember the first day of the 22nd International AIDS Conference in Amsterdam well. Outside the session on ART treatment, I came upon a group of activists loudly protesting for young women's right to choose to receive dolutegravir (DTG) treatment with contraception. I was baffled.

The few professional conferences I have attended only invited the researchers. So the amount of passion and activism at the conference surprised me. At this conference, the researchers, policymakers and community activists all have access to each other's sessions; the researchers share the latest research advances; policymakers share their program implementation and current recommendations; community activists share how the people are impacted by the HIV epidemic. The conference reminded me that the researchers, policymakers, community members, and the activists are all a part of the large and inclusive community of people working to end AIDS.
Want to know more about us? Please click here!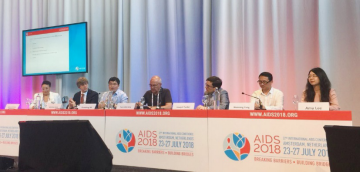 Figure 1 Expert Panel: Dr. Allison Mathews, Matt Avery, Dr. Guodong Mi, Dr. Paul Volberding, Dr. Joseph Tucker, Dr. Weiming Tang, Amy Lee (left to right)
At SESH's (social entrepreneurship to spur health) Global Village Workshop, we launched the WHO/TDR's Practical Guide on Crowdsourcing in Health and Health Research (click here ). Crowdsourcing is the process of having a large group, including experts and non-experts, solve a problem and then share the solution with the public. Similar to the conference at large, our workshop brought together community members, activists, students, researchers, and government officers. Often, workshops do not have these integral members intersecting. Workshops are generally tailored for a specific audience – for example, basic science researchers, policymakers or activists. Here, they intersect – and they interact. Together, we shared with them how crowdsourcing tools can be used to improve public health. Our workshop included an expert panel who shared their expertise from crowdsourcing program research to implementation for our diverse audience. After the workshop, a peer educator from South Africa and a researcher from Brazil shared with me that they hope to bring crowdsourcing back to their organizations, because they know how integral it is for the community to have the opportunity to create the solutions best for their own community. When there is mutual access and dialogue with the community, real changes can happen.
Figure 2 Amy Lee (left) with her AIDS 2018 youth ambassador team talking with Dr. Françoise Barré-Sinoussi

The International AIDS Conference epitomized the complexity of the AIDS movement. How the movement requires members from different sectors to contribute their expertise and experiences, to learn from one another, and together, to work toward the common goal of ending AIDS. I'm grateful to have attended this year's conference. Interacting with the passionate conference members and learning the great efforts that still needs to be made, has recharged my passion for the work back in Guangzhou. Coming back, I look forward to working even closer and collaborating with even more members of the community.