Crowdsourcing Influenza Vaccine Rollout Idea Challenge


In China, 10 people die every hour from influenza or other illnesses caused by it. Of these, people over the age of 60 are 26 times more likely to die from influenza than those under the age of 60. Children younger than five years of age also have a high rate of death due to influenza. However, according to data, less than 5% of the country's population is vaccinated against influenza each year. An annual flu vaccination will protect not only the elderly and children, but also those around them. Most people are limited by their knowledge of influenza and know very little about the flu vaccine, even equating it with the common cold (see Frequently Asked Questions for more information on the differences). We are calling for creative ideas to promote influenza vaccination among the elderly and children. We invite you to take part in this creative competition and use your talents to create a fun and attractive idea to promote flu vaccination!

Contest Description

The aim of this competition is to spread awareness of flu vaccination and to increase flu vaccination rates among older people and children. Your entry may include, but is not limited to, one or more of the following themes.
1. Raising awareness of influenza or influenza vaccine among the general public.
What is influenza? How is it different from the flu?
2. Raise confidence in the safety of the influenza vaccine among our population.
What is the principle of the vaccine? What types of flu vaccines are available? Is the domestically produced influenza vaccine safe?
3. To stimulate or increase the willingness and behaviour of the public to get vaccinated against influenza.
What are the benefits of getting an influenza vaccination? Why are influenza vaccinations recommended for the elderly and children?


1. Image/poster: any format or size
2. Video: up to 3 minutes
3. Slogan or limerick: should have a clear and compelling theme, be concise and easy to remember
Notes for entries
Entries must be original, non-commercial and non-infringing to the rights of any third party.
The organisers have the right to use the HD watermark-free footage to create a mix and use the work for public interest purposes such as display, promotion, publication and dissemination.
Once the work is submitted, it will be deemed that the creator agrees and voluntarily abides by the relevant regulations of the event. If the copyright of the work is in dispute in the middle of its use, the organiser will not bear the legal responsibility arising from the infringement of the rights of other people (or units), and the legal responsibility will be borne by the creator himself.

Who can enter
The competition is open to all, individuals and teams.
Scoring criteria
1. Relevance: the relevance and accuracy of the content of the work to the theme of the competition.
2. Expressiveness: the language, thought and logic of the work.
3. Impact: The persuasiveness of the work and its influence on public awareness and behaviour.
4. Artistry: the overall sensory effect of the work and its appeal to the audience.
Timetable
1. Call for entries: 28/06/2020 - 30/08/2020
2. Evaluation of works: 01/09/2020 - 30/09/2020

Prizes
First Prize 1: RMB2,000 cash
2 Second Prizes: RMB1,000 cash
Third Prize 3: RMB500 cash
Several prizes: Medal of Honour + Seth's customized souvenir (mug, canvas bag, T-shirt of your choice)
Note: All participants will receive a participation certificate issued by the organisers.
Flu vaccine winning entry.

Frequently asked questions
1. Are there any examples that we can draw on for our requirements?
In order to give participants maximum scope for creativity and to avoid similar content, we do not normally provide examples. We welcome all participants to create in their own way.
2. How many entries can I submit?
There is no limit to the number of submissions, and you are welcome to submit as many files as you like. However, if you wish to make multiple submissions, please submit each one individually.
3. What forms of influenza is the focus of this competition?
This call for entries is not related to influenza typing.
4. How is influenza related to novel coronaviruses?
There are four differences between the common cold, influenza and pneumonia caused by novel coronaviruses in terms of causative agent, onset time, symptoms and susceptible population.


Firstly, flu and colds have different causative agents. Influenza is not a common cold, it is a respiratory infection and is caused by the influenza virus. Currently, China classifies influenza as a category C infectious disease. The common cold, which can occur throughout the year, is not an infectious disease, but a common illness, caused mainly by common respiratory viral infections. Pneumonia, a novel coronavirus infection, is an infectious disease and has a clear epidemiological history, and is currently identified as a category B infectious disease in China and managed according to category A infectious diseases.


Secondly, the onset of influenza and colds do not coincide. Influenza occurs throughout the year and has no obvious seasonality. Influenza can also occur throughout the year, but the high incidence season is mainly in winter and spring. Pneumonia, a novel coronavirus infection, is a recent onset of disease in late winter 2019.


Thirdly, the symptoms of influenza and colds are not the same. A cold usually has symptoms of a stuffy nose, runny nose, sneezing and may have a fever, but this fever is usually low to moderate and lasts 1-3 days, and basically resolves itself in 3-5 days. It is rare for a cold to have generalised symptoms such as muscle pain or weakness. Influenza has a very pronounced and often high fever, which is relatively long lasting, usually 3-5 days, and resolves spontaneously in about a week. Influenza is most often associated with systemic symptoms, including generalized muscle pain, weakness and headache. As for pneumonia with novel coronavirus infection, because the number of cases in children is now limited, the main symptoms in the cases that have been diagnosed so far include fever, cough, malaise, and can include vomiting, abdominal pain and diarrhoea. Clinical diagnosis relies on epidemiological history, imaging tests and nucleic acid tests.

Fourthly, influenza and colds are not the same in terms of severity and susceptible population. Influenza affects all age groups and because there are no complications, the severity is very low, with few serious complications and few fatalities. Although influenza is susceptible to the whole population, there are some critical illnesses for which people are at risk. Children under 5 years of age, especially children under 2 years of age, older people aged 65 years or older, obese people, pregnant women, patients with immunosuppression and those with chronic underlying conditions are all at high risk of influenza. Influenza can cause complications in all systems and can be fatal, with these serious complications being the main cause of death. As for the novel coronavirus infection, it is also a general susceptibility of the population. Infants and children can also develop the disease, but the elderly and patients with chronic underlying conditions are more severely affected and can also die.
(Source: The definitive explanation of how to differentiate between the common cold, influenza and neonic pneumonia? http://finance.sina.com.cn/wm/2020-02-01/doc-iimxyqvy9540787.shtml)
5. What is "crowdsourcing"?
"Crowdsourcing is the process by which a group of people work together to solve a problem and share the resulting solution with the general public, usually in the form of an open competition that eventually brings together different ideas. Wikipedia is essentially the best known, most frequently modified and most widely used example of crowdsourcing. Seth's work turns traditional approaches to public health and marketing on its head by asking the public (real grassroots experts) to get ideas that reflect their background and resonate with people in the same cultural context.
6. What is a challenge?
Creative Contributory Contests (CCCs) are a form of crowdsourced work that aims to gather feedback from diverse audiences in a unique way to gain a broader understanding from the collective crowd. The feedback received is guided by a steering committee and assessed by a panel of judges. The Call for Ideas competition aims to select the best bottom-up innovative solutions to social and health problems.
7. What are the criteria for judging the competition?
We have developed the following four dimensions of judging criteria based on international standards: relevance, creativity, expressiveness and impact, with each dimension being scored on a scale of 1-10. We will invite a minimum of public and expert judges based strictly on the scoring criteria, with each entry being scored by at least four independent judges, and we will select the winning entry based on the total score (the higher the score, the more the entry meets the scoring criteria).
8. Will our work be shared locally and nationally?
We will share the best entries on a wider platform to raise awareness of the flu vaccine. However, before sharing, we will contact the winners of the best entries to seek their consent and ensure that there is no personal information in the entries.
9. Do you collect private information about participants?
No, we do not collect personal information such as names, IDs, etc.; the privacy of our participants is of paramount importance. To facilitate analysis of participation in the competition, we will collect some simple socio-demographic information (e.g. gender, age, etc.) and basic contact details to enable us to keep in touch with participants.
Contact details
If you have any questions, please mail to queencyxu@seshglobal.org or contact Xiao Sai (wechat: seshllc).
If you want to know more, please follow
Insert social media account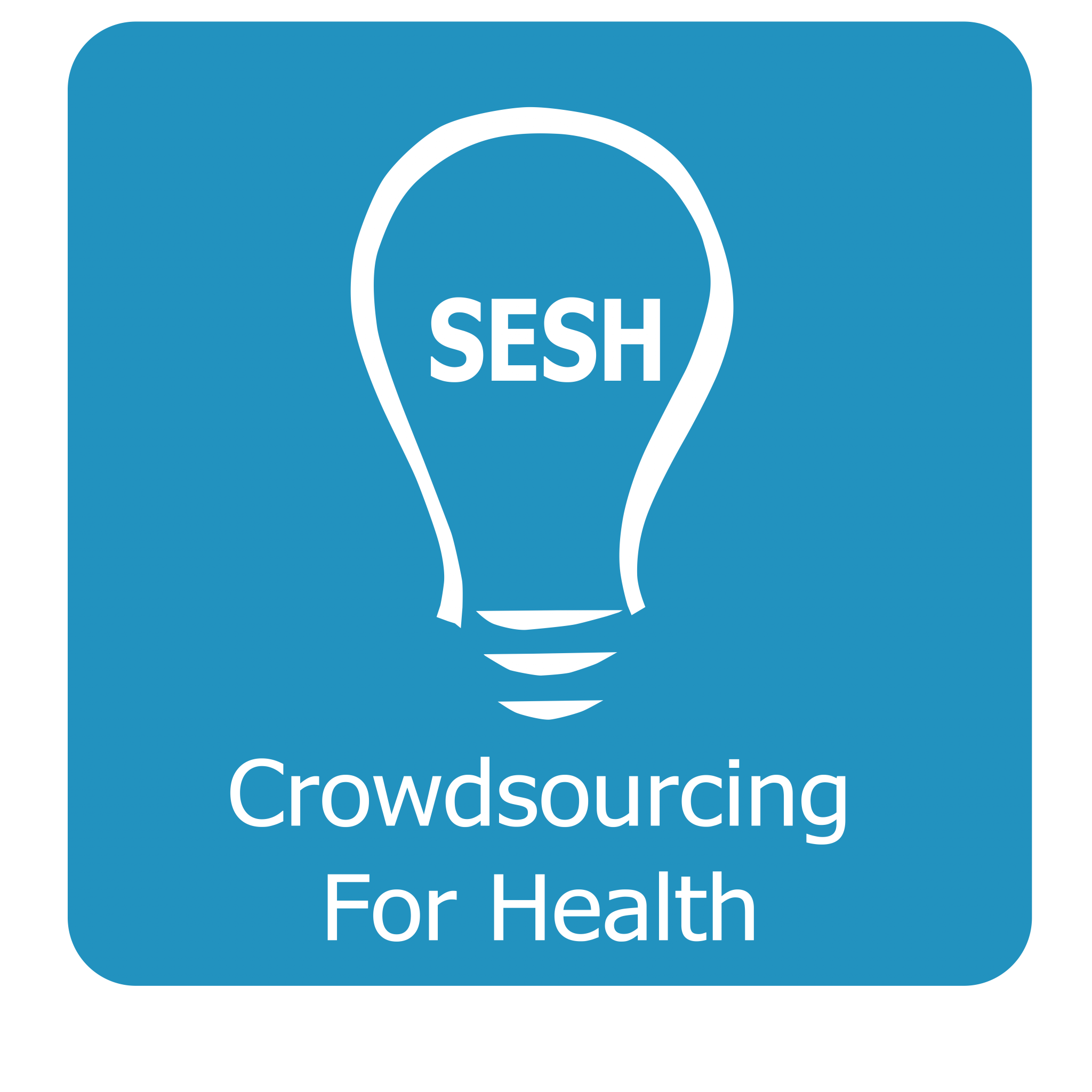 SESH
Social Entrepreneurship to Spur Health (SESH) is a multi-platform collaborative project initiated by researchers from the University of North Carolina's China Program Office, with a focus on public health, health education and medical research, with the aim of creating more participatory and useful health services through a crowdsourcing approach to address social issues in the field of public health and health. The aim is to create more participatory and effective health services through crowdsourcing methods to solve social problems in public health. SESH's goal: to build a multi-platform collaborative network, develop crowdsourcing and other methods that can be extended to public health and health, deliver research, increase social participation in public health services, and influence key audiences to resonate with and communicate our values.



I Love Competition
Founded in October 2014, I Love Competition aims to enrich the university experience with information, practice, knowledge and communication, empowering professional abilities and helping students to grow individually and deepen the reform of university education. At present, it is the platform with the most registered users and the highest traffic volume in China for university events and social practice.
Members of the Competition Executive Committee
Joseph D. Tucker, Wang Shengran, Wu Dan, Zhang Chunhuan, Yang Qinlu, Tang Weiming, Cheng Weibin, Cao Bolin, Fu Chuanxi.