Global Viral Hepatitis Storytelling Open call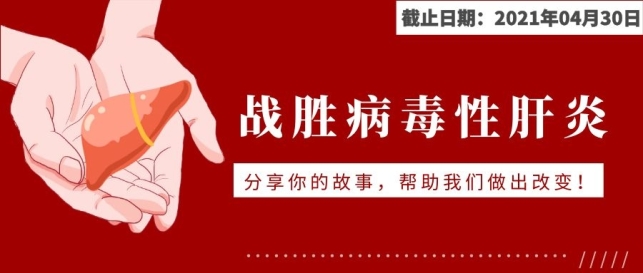 Has viral hepatitis affected your life or the life of someone you care about?
Would you like to share your story to drive change?
Our team is collecting stories about hepatitis and your participation and help is urgently needed!
This open call for hepatitis stories will help promote change in our hepatitis-related services and policies.
Stories can take the form of text, audio, visual art or infographics.
All submissions will be judged by an independent panel of judges and outstanding entries will be recognised in national and global competitions, in addition to receiving awards and prizes.

Contest instructions
Entry content
This can include the Newcastle pneumonia outbreak and hepatitis, personal experiences, help-seeking experiences, local events from relevant advocacy groups, advocacy groups, social agencies, community/community impact, and anything related to your story.
Entry categories
Categories for submission include community/group advocacy related to hepatitis, community/group input into policy, public awareness and education, public service delivery support and community/group-based research.
Note: We encourage submissions in English, but also accept French, Chinese, Russian, Arabic and Spanish. If you do not wish to share your story publicly, but still want your views to be heard, you may also choose to submit anonymously.
Format

Textual narrative (less than 500 words): written story on the subject
Image (no more than 2 pages): You can create an image using a picture, photograph or hand-drawn drawing
Audio/video clip (up to 3 minutes): can be audio or video or a combination of both
Infographic (no more than 2 pages): Combine images, graphics and a small amount of text description to provide an easy to understand overview of the topic

Who can enter
Anyone can enter the competition and we particularly encourage submissions from:

People living with viral hepatitis and those infected (including but not limited to those living with hepatitis, those cured, family members, etc.).
Community/group advocates and workers
Leaders of social organisations
Staff of hepatitis-related organisations

Scoring criteria
Scoring is based on the following four dimensions:

Impact: whether the work resonates with or touches others
Relevance: whether the work is relevant to your community/group's experience of hepatitis
Feasibility/Practicality: whether it can be disseminated by local hepatitis organisations and through multiple channels
Completeness: whether the story/artwork is complete in its message



Deadline
Deadline for entries: 30 April 2021
Judging period: Proposed May 2021
Hepatitis public consultation workshop (local): July 2021
Global Hepatitis Public Consultation Workshop (online): October 2021

Prizes
Individual prizes: kindle, Bluetooth headset and shopping card, etc.

Advocacy organisation prize: travel allowance to participate or lead local and global hepatitis public consultation workshops in direct dialogue with key populations (e.g. policy makers, patients, etc.) Note: The location of the three local workshops will be determined by the number and quality of stories submitted by the country (a combination of face-to-face and online, with online participants receiving an equal amount of subsidy).

Official recognition: finalists will be recognised with certificates from the organisers and co-organisers.





The final winner will have the opportunity to be invited to an offline workshop organised by the organising committee and will receive a full scholarship! The full scholarship will cover the registration fee, travel and accommodation costs for the offline workshop.



Note: The decision of the Steering Committee is final. We will be organising an international workshop in collaboration with the World Hepatitis Summit.
A working group of the steering committee and finalists will develop an electronic version of a practical guide to hepatitis advocacy to be presented at the World Hepatitis Summit 2021.

Frequently asked questions
Why is it important for me to get involved?
Due to various social and healthcare system factors, in many countries, people with hepatitis have always remained silent. In fact, telling the hepatitis story publicly can help the public and even policy makers to better understand the impact of the disease on individuals, families, groups and societies.
Who are the project organisers?
The project is organised by the London School of Hygiene & Tropical Medicine, the World Hepatitis Organisation, EndHep2030 and other partners.
What is an open call contest?
An open call is a form of crowdsourcing that aims to gather a diverse range of people's opinions from different audiences in a brainstorming way to gain a comprehensive understanding of hepatitis-related issues. A steering committee is usually set up, independent judges are invited to assess the submissions, and the winning entries are widely displayed and shared. Open calls are an innovative bottom-up approach to solving social issues. More information on the health-related open call can be found here.
What are the criteria for judging this open call?
The quality of the entries will be assessed. As mentioned above, each submission will be assessed on four criteria: ability to influence, relevance, feasibility and completeness.
Hepatitis D virus (HDV) is a virus that needs to be dependent on the hepatitis B virus (HBV) in order to replicate. Hepatitis D infection can only occur in conjunction with or in combination with hepatitis B infection. Nearly 5% of people with chronic hepatitis B infection worldwide are infected with hepatitis D. Hepatitis D-Hepatitis B co-infection is considered to be the most severe form of chronic viral hepatitis because it progresses more rapidly to hepatic death and hepatocellular carcinoma. Hepatitis D can be prevented by vaccination against hepatitis B. The most common modes of transmission of hepatitis D are contact mother-to-child transmission during birth, and contact transmission of blood or body fluids (including sexual intercourse, needle sharing for drug injection). Vertical transmission from mother to child via the placenta is rare.
How is liver cancer related to hepatitis?
Hepatocellular carcinoma may occur when there is a mutation in the DNA of the liver cells. Chronic hepatitis B, D or C infection can increase the risk of liver cancer.
Can you provide some examples of your work?
In order to avoid similar submissions, we do not usually provide examples. We recommend that you think about how to tell a good story and start from there.
Why do you emphasise online platforms?
Online platforms can be powerful advocacy tools, as evidenced by NOhep's online hepatitis advocacy campaign and other Health Assembly campaigns.
How many entries can I submit?
There is no limit to the number of entries you can submit, but if you wish to submit more than one entry, please submit each entry separately.
Can only people with hepatitis participate?
No, anyone is eligible to participate. Patients or people who have recovered are welcome to participate, and family members, friends of patients/recovered individuals and hepatitis advocates are all welcome to participate.
What types of hepatitis are the focus?
This open call focuses on the impact of hepatitis B (HBV), hepatitis C (HCV) and hepatitis D (HDV). While other forms of hepatitis are also important, they are not relevant to this call.
Will our information be shared locally and globally?
Yes, as the aim of this open call is to share your story and work on a wider scale, please submit what you would like to share publicly.
Will this information be included as part of the campaign and be validated?
Yes, we will share the winning entry publicly, but we will contact you to ask for your permission before sharing it. Therefore, it is important that you provide your personal contact details during the submission process.
Does the competition collect background information about participants?
Yes, in addition to information about the entries, our survey will need to collect some basic demographic information, including gender, age, nationality, and your contact details in order to contact the winner.
What personally identifiable information do we need to provide?
None, but if you are a finalist, we will need your name and contact details in order to award you a prize. The privacy of participants is of paramount importance and we will never share your personal information with any third party,.
What if I don't have access to hepatitis medication in my country or I don't know of a community advocacy group?
Questions such as these are one of the many reasons why we are launching this open call. Through your story, we hope to bring it to the attention of as many people as possible to improve local hepatitis services. In addition, we can help launch advocacy groups and organisations to help improve the quality of life for people with hepatitis in the community.
Are there incentives for networks and community groups?
Yes, the organisation, group or individual that contributes the most (quantitatively and qualitatively) to the submission will be invited to become a partner in the in-country workshop and will have the opportunity to network with local civil society, advocates and policy makers.
How do I create an infographic?
There are a number of open access resources for creating infographics and related visual materials. For more information click here.

Contact details
If you have any questions, please email hepatitis.stories@gmail.com or contact (wechat: seshllc.)
If you would like to find out more information, please follow