Rational Use of Antibiotics and Antibiotic Resistance Clinical Case Open Call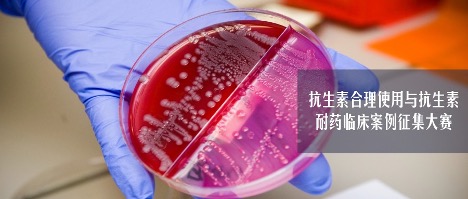 Background Overview
Antibiotic resistance has become a major threat to clinical medicine and public health worldwide. In 2018, we held our first clinical case competition on antibiotic resistance, and we are looking forward to the participation of more doctors and medical students this year. After the entries collected have been judged, we will publish the entries collected in this competition on professional healthcare online platforms (e.g. Dingxiang Garden) and make them available to medical students, physicians and other medical professionals for free reference and study.
Note: Most participants may lack expertise in infections, antibiotics and other related topics, so we hope your submissions will be as concise and easy to understand as possible (see judging criteria for details).

Call for topics
Anything related to antibiotic use and antibiotic resistance, such as clinical cases of antibiotic use or antibiotic resistance, what is antibiotic resistance, causes of antibiotic resistance, transmission of drug-resistant bacteria.
Call for entries
The main types of entries sought for this competition are as follows.
1) Multiple choice questions: You may design your own multiple choice questions (must have correct answers and relevant explanations), the main purpose of which is to be used to assess or improve the knowledge of medical students, doctors and other health professionals on antibiotic use and resistance.
2) Pictures: Any pictures related to the topic are acceptable, either pictures of patients seen in the clinic or pictures of results of laboratory/auxiliary tests etc. A description of 100 words or less is required. The main aim is to educate medical students, doctors, and other medical staff with visual clinical images.
3) Infographics: A combination of text, pictures, iconic symbols and other visual tools to illustrate a point of knowledge or a clinical case; preferably limited to one page in length; a description of 100 words or less is required.
Note: Participants can submit a single or multiple entries (multiple independent uploads are required), and there is no limit to the form of the above three entries, which can be in a single form or a combination of multiple forms. All entries must be in Chinese or English or a combination of both; any published images, information, data etc. must be referenced.
Who is the audience for the work?
It is up to you to decide the audience for your work, which could be medical students, clinicians with less relevant knowledge, or others with an interest in the subject. All you need to do is to specify the appropriate audience for your work when you submit it.
Judging criteria
1. relevance of the theme
2. logical presentation of information in the work
3. clarity of knowledge
4. the value of learning and sharing
Schedule
Competition launch: 30 April 2019
Deadline: 15 June 2019
Judging of entries: 16 June 2019 to 30 July 2019
Announcement of competition results: 31 July 2019

Frequently Asked Questions

1. Why enter this open call?
The discovery of antibiotics changed the history of modern medicine, yet antibiotic resistance has now become a worldwide problem. Overuse of antibiotics is the main culprit in the development of drug resistance, so there is an urgent need to regulate medical practice and reduce overuse and resistance to antibiotics. Your work has the potential to be used as teaching material in the future and to contribute to winning the battle against antibiotic resistance.

2. What is the focus of your work?
The focus may include (but is not limited to) one or more of the following.
On basic background knowledge
1. local epidemiological data on drug-resistant bacterial infections or antimicrobial spectrum
2. what are the risk factors for drug-resistant bacterial infections
On how to prevent the development of drug resistance

3. Factors associated with overuse of antibiotics by healthcare professionals

4. preventive and control measures for drug-resistant bacteria, etc.



About diagnosis

5. Rational selection of antibiotics based on antimicrobial spectrum and resistance testing results

6. interpretation of the test results of a specific patient based on local epidemiological data on drug-resistant bacteria/antimicrobial spectrum, etc.



About treatment
7. antibiotic therapy is not clinically indicated but there is misuse of antibiotics
8. where it is not clinically clear whether antibiotic therapy is required
9. Clinical situations where both antibiotic treatment and control of the source of infection are required
10. How to promote the concept of using narrow-spectrum antibiotics and short courses of treatment whenever possible
11. how to promote multidisciplinary and multidisciplinary collaboration in the prevention and control of drug-resistant bacteria
12. To provide relevant and available learning resources to learn how to properly manage patients with drug-resistant bacterial infections
13. the side effects and incidence of antibiotic use
3. How do you produce a good piece of work?
The competition hopes to brainstorm ideas to maximise your enthusiasm and creativity. For a reference on how to design a multiple choice question, please click
here
; for an infographic, please click
here
.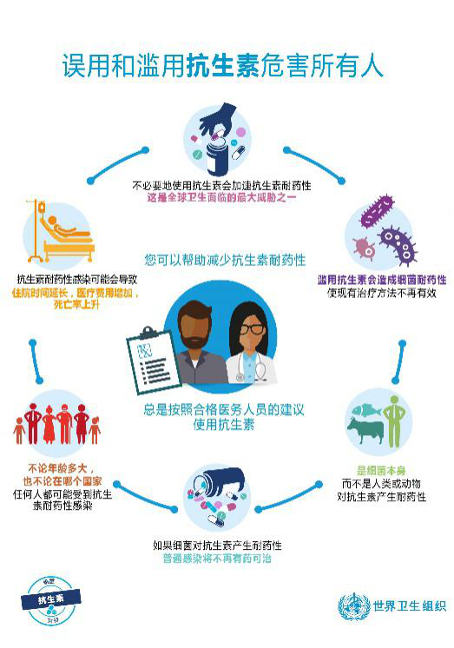 Infographic design examples (Source: WHO)
Multiple choice case
2 year old boy presents with diarrhoea for the past 4 days, no bloody stools. Appetite is good and sleep is good. On examination there is no fever and no tachycardia. Parents complain that the boy's cousin has similar symptoms and has improved with antibiotic treatment. The mother is tired from having to change the boy's diaper several times and requests antibiotic treatment. Which of the following do you think is the correct treatment?
a) Hydration therapy with intravenous single dose ceftriaxone sodium
b) Hydration therapy and three days of oral ciprofloxacin
c) Hydration therapy with stool culture and no antibiotic treatment
d) Hydration with no stool culture and no antibiotics
4. How can I encourage my colleagues/classmates to participate?
The competition will be promoted through social media and offline activities, offline activities include lectures, sharing events, community events, etc. Social media can be in the form of WeChat, Weibo, website, SMS, email, etc. You can then choose the appropriate way to invite your friend to participate with you, and you can invite him to create with you!
5. Prizes
Bluetooth speakers, Bluetooth headphones, floor sweeping robots, the "Concordia Internal Medicine Resident Handbook", the "Concordia Clinical Medication Quick Reference Handbook" and many other prizes.
First prize: 3, each author of a first prize entry will receive a floor sweeper robot worth RMB 1,000.
Second prize: 6, each author of a second prize entry will receive a JBL Bluetooth speaker valued at RMB 400
Third Prize: 9, each author of a Third Prize entry will receive a JBL Bluetooth headset valued at $300.
Winners: 15-20 winners will receive a copy of the Concordia Internal Medicine Resident Handbook and the Concordia Clinical Medication Quick Reference Handbook (choose any one).
Alternative prize:
The top three winners will be able to choose this alternative prize and we will assist and fund the authors of some of the winning entries to write papers for submission to English language journals (e.g. short articles based on the work for submission to F1000), with the order of authorship determined by the size of the contribution.
Other prizes:
participants will receive a certificate from the International Diagnostic Centre of the London School of Hygiene and Tropical Medicine; in addition, we will publish the work on international and national professional medical platforms, such as Clove and Figure1, for peer learning.
Submit your work
To submit your work, please click on "Submit your work" below
Submit Your Work
Organizers Co-organizers
International Centre for Diagnostics, London School of Hygiene and Tropical Medicine
Clove Garden (丁香园)
Open call Steering Committee members
Rosanna Peeling (London School of Hygiene and Tropical Medicine), Joseph Tucker (University of North Carolina at Chapel Hill), Dan Wu (London School of Hygiene and Tropical Medicine), Lei Chang (Ding Xiang Yuan, Hangzhou, China), Jason Ong (Monash University), Christina Chang (Harvard Medical School), Jehan Budak (University of California, San Francisco), Noah Fongwen (London School of Hygiene and Tropical Medicine), Till Bachmann (University of Edinburgh), Eneyi Kpokiri (London School of Hygiene and Tropical Medicine), Megan Dolski (Figure 1, Toronto, Canada)
Partners