Syphilis testing 'lottery' open call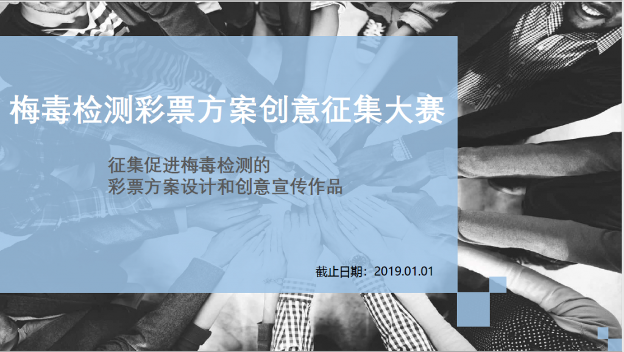 Background
The SESH team, together with the team from the Guangdong Dermatological and Venereal Disease Prevention and Treatment Centre (Dermatology Hospital of Southern Medical University), plans to promote syphilis testing within the community, with the aim of promoting different syphilis testing protocols (including syphilis self-testing) among individuals at high risk of STI infection and their sexual partners, to promote early detection and standardised treatment of syphilis infection and reduce the risk of syphilis.
"Lotteries, which are common in our daily lives, are a very attractive form of promoting high returns on a small investment by the public. To promote syphilis testing in high-risk individuals, we envisage rewarding participants who complete a syphilis test with a "lottery ticket".
We are calling for designs and ideas for a Lottery to promote syphilis testing. We are calling on everyone to participate in this creative competition and use your talents to design a lottery for syphilis testing (including self-testing for syphilis) with substance and substance.
Call for entries on the theme
"Lottery for syphilis detection"
Entries must cover one of the following two elements (the two elements will be judged separately).
1. the design of the lottery (including the value of the ticket, the probability of winning, and the format of the draw)
2. the creative work related to the "lottery" proposal (copy, images, poster design for the "lottery" for syphilis detection).
Call for entries

1. Entry requirements
1) Form of work.
a) Programme text (up to 1000 words)
b) images, photographs or posters (images in gif, png, jpg or bmp format, size to be limited to 8MB)
c) video or flash animation (size should be limited to 1 minute).
2) Entries can be aimed at a mass audience or a specific group of people who are highly affected.
3) All submitted material and information must be original.
2. Submissions (images, photographs, posters, video or flash animation categories) must be accompanied by a corresponding text description (no more than 300 words).
3. Other requirements
1) The competition aims to promote the promotion of syphilis testing (including self-testing for syphilis) through a lottery format, and entries must convey healthy, positive and uplifting positive energy.
2) The competition allows submissions in the name of individuals or teams: submissions must be original and not published in any media or publication. Plagiarism is strictly forbidden, violators will be disqualified from the award and the right of recourse will be reserved. (Note: The work selected by the entrant must not infringe on the copyright, portrait rights, reputation rights, privacy rights and other legal rights of others.)
3) The copyright and final interpretation of the entries belong to SESH and Guangdong Dermatological and Venereal Disease Prevention and Treatment Centre (Dermatological Hospital of Southern Medical University).
Awards
First Prize 2 prizes: RMB1,500 cash
Second Prize 2: RMB800 cash
Third Prize 2: RMB500 cash
10 Outstanding prizes: Seth's prize pack
* The winner of any of the prizes will receive an official award certificate. A certain number of entries must be collected before judging can take place, if a certain number of entries are not collected, the deadline will be delayed.
Award Announcement
Extended Reading
(1) What is syphilis?
Syphilis is a chronic, systemic sexually transmitted disease caused by the pale (syphilitic) spirochete. It is mainly transmitted sexually, but can also be transmitted from mother to child and through blood. It can manifest clinically as stage 1 syphilis, stage 2 syphilis, stage 3 syphilis, latent syphilis and congenital syphilis (foetal syphilis). The disease is classified as a category B disease under the Prevention and Control of Infectious Diseases Law of the People's Republic of China.
In China, the largest number of reported cases of syphilis is occult syphilis, which accounts for more than 80.0% of the total number of syphilis cases. As patients do not feel or have clinical manifestations of the disease, it is easy to be overlooked by patients, who are unable to receive timely medical attention and treatment, thus causing harm to their bodies. At the same time, patients with recessive syphilis are still contagious and pose a threat to their sexual partners or loved ones who live closely together. At the same time, syphilis infection manifests itself in many different ways, mainly in the form of erythema and rashes in the genital area, while others may develop a generalised rash, usually without obvious symptoms, which can only be detected by syphilis testing.
(2) Where can I get a syphilis test?
If you are at risk of contracting syphilis, you can get tested for syphilis and diagnosed at a local hospital that is qualified to test for syphilis.
(3) What is self-testing for syphilis?
Self-testing for syphilis is usually a process of collecting blood from your fingertips, testing for syphilis and interpreting the test results in the relative privacy of your own fingertips, following the step-by-step instructions of the self-test reagent. A positive self-test for syphilis needs to be confirmed by a local hospital.