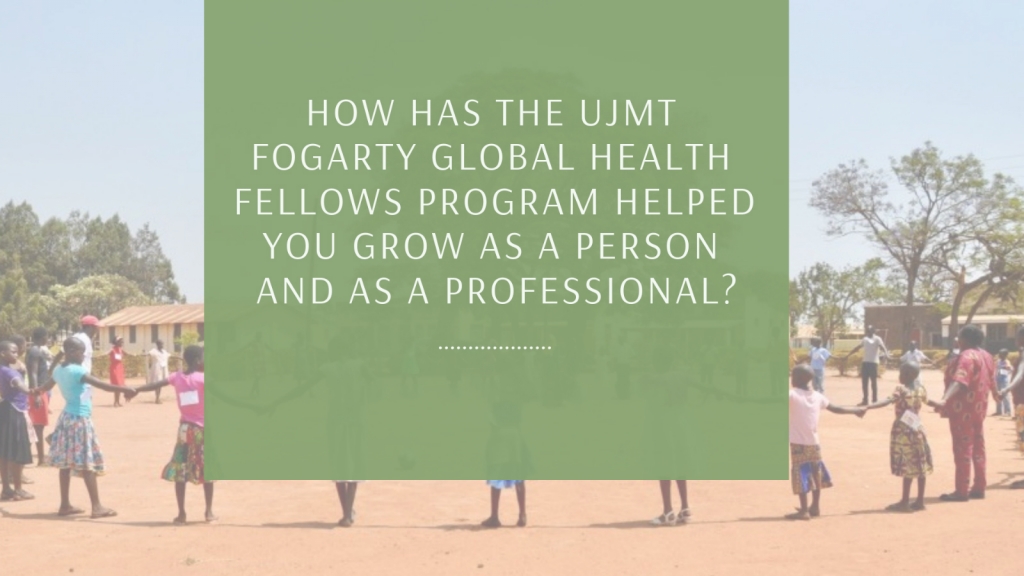 How has the UJMT Fogarty Global Health Fellows Program helped you grow as a person and as a professional?

Call for Contributions
How have you grown from your UJMT experience as a researcher, mentee or mentor? The purpose of this contest is to engage UJMT partners (in-country collaborators, fellows, alumni, and others) to reflect on their experience and create messages to showcase the program. The UJMT experience is rich and rewarding, providing a springboard for further global health research and opening doors for careers. For example, alumni Stephen Pan noted: "supported by outstanding mentors and staff, the UJMT program enabled me to work alongside leading global health researcher teams and successfully transition from graduate school to university faculty."
Youtube Video

Background
The University of North Carolina at Chapel Hill, Johns Hopkins University, Morehouse School of Medicine, and Tulane University (UJMT) Program has supported over 130 trainees over the past five years. This crowdsourcing contest aims to solicit messages from UJMT program fellows, alumni and mentors regarding the impact of UJMT on their growth as people and professionals. Exceptional messages will be used for UJMT public communications.
Guidelines for contributions are described below. The final deadline for contributions is 11:59 EST on February 20th, 2019. The UJMT Fogarty Global Health Fellows Program and SESH Global are the main organizers of this contest.
Upload
Upload your contribution here:
https://www.wjx.top/jq/32375166.aspx

Guideline for contributions
Eligibility
Any UJMT program fellow, alumni, mentor, or in-country team members from current or former UJMT sites. The contribution should focus on how UJMT program has helped your personal and/or professional life.
Contribution Format Options
Texts (less than 500 words);
Images (less than 5 MB, with text to explain the image);
Video (Less than 1 minute).
Judging Criteria

Clearly demonstrates how a global health experience enhanced the participants' personal or professional development; inspire the next generation of UJMT fellows.

Timeline
All final entries are due by Feb. 20;
Notifications about final commendations and prizes will be made before the end of April.

Prizes

We will award a total of 1100 USD in prizes. Each contribution will be evaluated by at least three independent individuals. Final decisions about prizes will be made by the steering committee. Examples of previous prizes include an amount towards conference travel, iRobot Roomba, Kindle Paperwhite, and an Amazon ECHO.

FAQs
1. What is a case challenge?
A case challenge is an open contest to solicit clinical cases. Open contests have been widely used by governments, private foundations, and others to spur creativity. More details about open contests for health are available
here
.
2. Who is supporting this contest?
This contest is organized by the UJMT Fogarty Global Health Fellows Program and SESH Global. The contest is advised by a steering committee that includes the following individuals: Gilberte Bastien, Benjamin Chi, Alex Kayongo, Amy Lee, Morag MacLachlan, Richard Oberhelman, Stephen Pan, Megan Smithmyer, Weiming Tang, Joseph Tucker.
3. Should I list my publications/accomplishments?
While we realize that publications are important, we encourage you to reflect on how these publications have impacted your professional development.
4. What's an example of an exceptional photo?
We do not provide examples in the spirit of fostering creativity. However, the photo should be action-oriented and linked to the global health experience. An example that would be less interesting is a group photo.
5. Do the people in the photo or video have to be alumni of the program?
No, they do not need to be.
6.If someone else is in the photo, do I need their permission to submit?
There is no need to obtain permission unless someone is identifiable. If an individual in your image can be identified, then we ask that you obtain permission from them.
7. How do I take a quality photo or a video on a mobile phone?
Instructions and tips can be found online.
Here are two references to get started –
Video -
here
Photo -
here
8. Is there a limit to the number of contributions?
No, there is no limit.
9. I have participated with another non-UJMT Fogarty program, am I eligible for the contest?
Unfortunately, no. Currently SESH is collaborating with the UJMT Fogarty Global Health Fellows Program only. However, there may be other SESH contests that are suitable for you. Future contests will be posted on
www.seshglobal.org

Partners

Questions?

Contact our contest coordinator at ujmtcontest@seshglobal.org